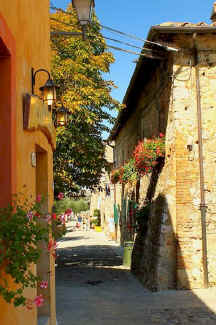 The municipal territory of Monteriggioni extends over 99.5 square Km in Val d'Elsa, between the valley of the river Staggia and the hills which surround it. First a walled castle then a free municipality, it became the seat of a municipality in 1777.

The castle of Monteriggioni was constructed in the second decade of the 13 C by the Siennese as a military garrison on the borders with Florence, but there was mention of the place as early 1126 and 1154 when the Nobles di Staggia had rights over it. Contested in vain by Firenze and also by the Bishop of Volterra, the legitimate proprietor of all the zone, the Siennese constructed their own fortified settlement here, strengthening it in the second half of the century with surrounding walls bristling with towers, even though a peace clause in an agreement of 1232 between Firenze and Siena foresaw its destruction. Its importance grew in the XIV century when Monteriggioni was well organised as municipality with its own statutes. Its dependence on Siena and its position rendered it the target of various Florentine attacks continued until 1554 when the exiled Florentine Giovannino Zeti, who had command of the garrison, betrayed the castle, consigning it to the Imperial troops. Monteriggioni preserves almost intact the massive surrounding walls reinforced by fourteen square towers.

The main piazza, the Piazza Roma, is dominated by a Romanesque church with a simple, plain facade. Other houses, some in Renaissance style and once owned by local nobles, gentry and wealthy merchants, face into the piazza. Off the main piazza, smaller streets give way to public gardens fronted by the other houses and small businesses of the town. These public gardens fed the village when it was under siege.

Dante referred to Monteriggioni in the Divine Comedy: Inferno, xxxi. 41-44 '...come in su la cerchia londa Monteriggioni di torri si corona'.